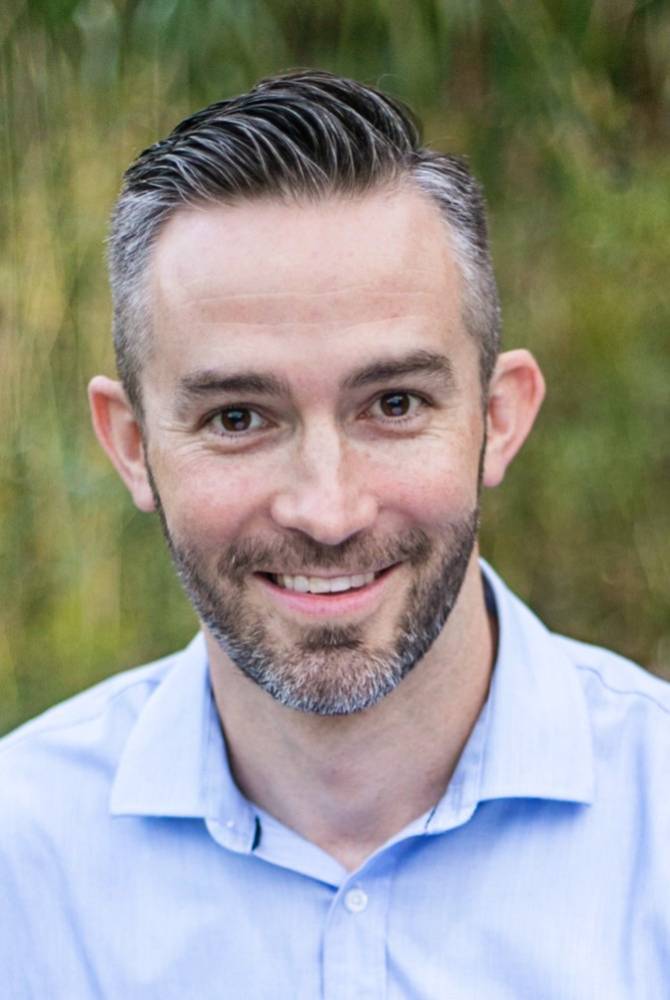 "Dr. Dan" Hilton earned his medical degree from A.T. Still University Kirksville College of Osteopathic Medicine in 2015, graduating in the top 20 percent of his class. He completed his clinical rotations in Columbus, Ohio under direction of Ohio University's Heritage College of Osteopathic Medicine. He then went on to complete his otolaryngology – head and neck surgery residency at Michigan State University and received "Resident of the Year" award. He is fellowship certified in allergy by the American Academy of Otolaryngologic Allergy (AAOA).
Dr. Hilton received his undergraduate degree in Spanish and zoology in 2010 from Weber State University. He graduated cum laude and received the Outstanding Graduate Award.
In 2020, Dr. Hilton moved to Las Vegas with his wife and children. As an allergy-fellowshipped general ENT, Dr. Hilton focuses on sinus, ear, nose and throat complaints. This includes chronic ear issues, hearing loss and vertigo; facial skin cancer with MOHs reconstruction; voice complaints; thyroid, parathyroid and salivary gland concerns and allergies.
He enjoys being a husband and a father, serving others in the community, cycling, playing outdoor sports, traveling and spending time with family and friends. He grew up in Northern Utah and is an avid Utah Jazz fan.
Education
Undergraduate: Weber State University, Ogden, UT
Medical: A.T. Still University Kirksville College of Osteopathic Medicine, Kirksville, MO
Training
Otorhinolaryngology/Facial Plastic Surgery Residency: Michigan State University – McLaren Oakland Hospital, Pontiac, MI
Fellowship
Otolaryngologic Allergy: American Academy of Otolaryngologic Allergy (AAOA)
Special training opportunities:
Roswell Cancer Institute (Buffalo, NY)
Michigan Ear Institute (Novi, MI)
Cincinnati Children's Hospital and Medical Center (Cincinnati, OH)
Completed Coursework
Sinus and Skull Base Course. University of Michigan. Ann Arbor, MI. (2020)
Advanced Course in Allergy & Immunology. American Academy of Otolaryngologic Allergy (AAOA). Austin, TX. (2020)
Academy of Otolaryngology – Head & Neck Surgery (AAO-HNSF) Annual Meeting. New Orleans, LA. (2019)
Annual Course in Allergy & Immunology. American Academy of Otolaryngologic Allergy (AAOA). New Orleans, LA. (2019)
Basic Course in Allergy & Immunology. American Academy of Otolaryngologic Allergy (AAOA). Minneapolis, MI. (2019, 2020)
Maxillofacial Trauma Course (Wayne State University, KLS Martin). Detroit, MI. (2019)
Sinus Surgery & Facial Plastics Dissection Lab (Medtronic, Karl Storz, Dr. Adam Folbe, MD). Novi, MI. (2018)
Temporal Bone Course. Michigan Ear Institute. Novi, MI. (2018)
Anatomy & Histopathology of the Head, Neck & Temporal Bone. University of Indiana. Indianapolis, IN. (2017)
AOCOO-HNS, Mid-Year Seminar. Detroit, MI (2014, 2015, 2016, 2017, 2018)
Otology Temporal Bone Lab. Wayne State University. Detroit, MI (2015, 2016)
Facial Fracture Plating Course (Synthes). McLaren Oakland Hospital. Pontiac, MI. (2015)
Head & Neck Radiology Course. Michigan State University. East Lansing, MI. (2015)
Fundamental Critical Care Support. Society of Critical Care Medicine. Detroit, MI. (2015)
Publications
Hilton DB, Luryi AL, Bojrab DI, et al. Comparison of associated comorbid conditions in patients with benign paroxysmal positional vertigo with or without migraine history: A large single-institution study, Am J Otolaryngol. 2020;41(6), 102650. ISSN 0196-0709. doi: 10.1016/j.amjoto.2020.102650.
Hilton DB. Comparison of associated comorbid conditions and recurrence in patients with benign paroxysmal positional vertigo with or without migraine history: a large single institution study. Statewide Campus System College of Osteopathic Medicine Michigan State University: ENT Research Paper Presentation Day, Novi, MI. 4/2019. Second place.
Hilton DB, Shermetaro C. Headache, Migraine-Associated Vertigo (Vestibular Migraine). Treasure Island (FL): StatPearls [Internet] Publishing; 2018 June 20. PMID: 29939636
Professional Affiliations
American Osteopathic Colleges of Ophthalmology & Otolaryngology – Head & Neck Surgery (AOCOO-HNS). (2015 – present)
American Academy of Otolaryngology – Head and Neck Surgery (AAO-HNS). (2015 – present)
The American Academy of Otolaryngologic Allergy (AAOA). (2019 – present)
American Osteopathic Association (AOA). (2010 – present)
American Medical Association (AMA). (2016 – present)
Michigan State University College of Osteopathic Medicine Clinical Faculty (2015 – 2020)
Languages
English (primary)
Spanish (fluent in writing and speaking)